The Monero Standard #18: 29 June 2022 - 6 July 2022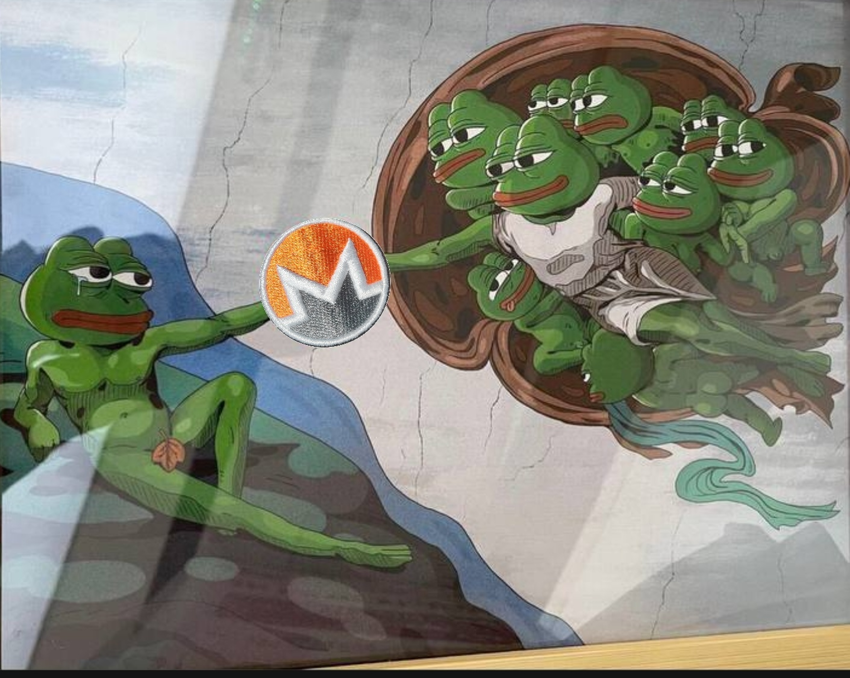 Table of Contents
Recent News
Riccardo "Fluffypony" Spagni, former Monero maintainer, extradited to South Africa facing 378 charges related to allegations of fraud and forgery, a report by CoinTelegraph. Reports say all this allegations have nothing to do with Spagni's relation to Monero.
Episode 520 of What Bitcoin Did podcast featuring Seth for Privacy called "Privacy on Monero vs Bitcoin" has been released.
Particl Project announced the launch of the BasicSwap DEX in its beta phase. In BasicSwap you can swap BTC, LTC, XMR and Particl's native token (PART) trustlessly and privately.
Monero v15 hard-fork reschedueled for August 13th.
P2Pool v2.2 with support for the next hard-fork is out.
Price and Blockchain Statistics
| Statistics | Value |
| --- | --- |
| Market Capitalization | $2.301 billion |
| Total Supply | 18,144,268 XMR |
| Price | $126.86, 6.88% in 7 days |
| LocalMonero's Street Price | $131.40 |
| Average Transaction Fee | 0.00024 XMR ($0.031) |
| Block Height | 2,661,811 |
| Block Reward | 0.6000+0.01065 XMR ($77.47) |
| Inflation | 0.91% |
| Hashrate | 2.93 Ghash/s -4.46% in 24 hours |
| Transaction Ratio to Bitcoin | 12.2% |
Price Chart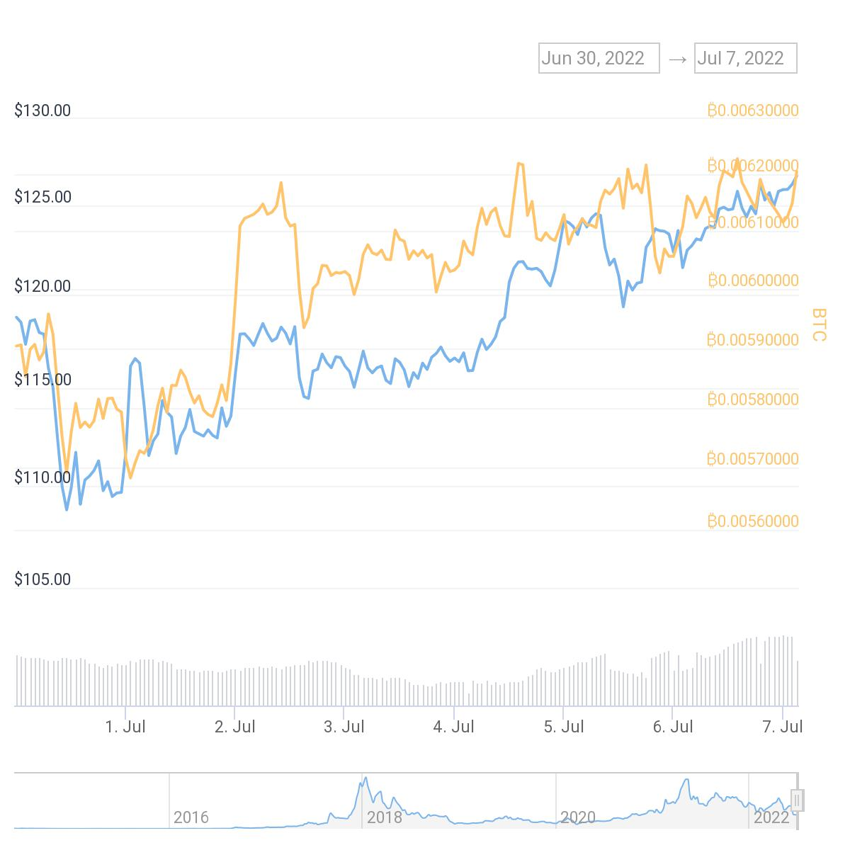 Hashrate Distribution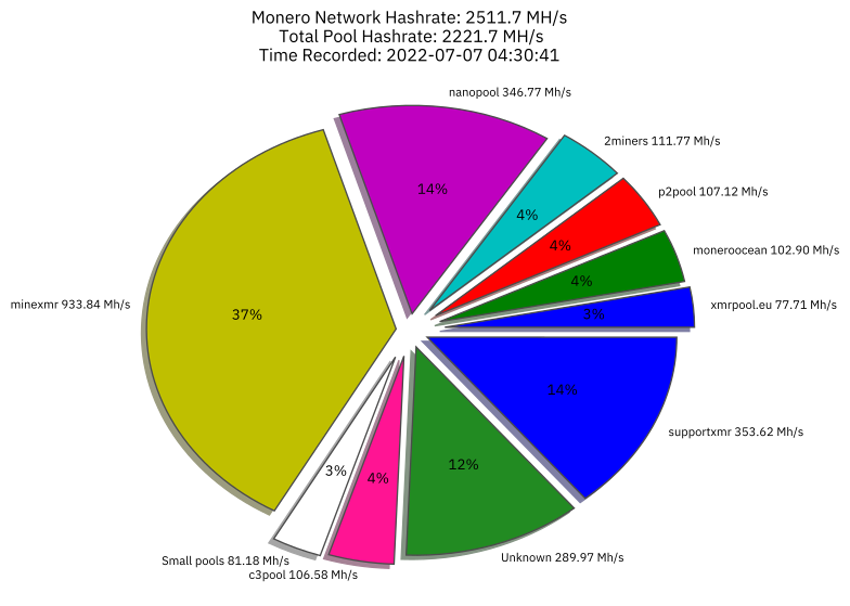 Facts or Guides
Monero Observer's Blacklist Directory
Monero Observer is one of the best websites for people who enjoy the freedom of using Monero with up-to-date news and other useful resources. Recently they've launched a blacklist directory for suspicious/malicious projects which users should avoid. It's a wikipedia-type system you can edit/suggest to. For more information take a look at the original report of them introducing it.
Merchants

The Masternetwork
The Masternetwork is a platform that connects computing power with developers in exchange for cryptocurrency. While you're not using your server supporting virtualization, or a raspberry pi, you can make it available to the platform. Thus, depending on the demand, your server will be able to run virtual machines for others, and you will receive cryptocurrencies (currently XMR) according to the computing power used.
Notable Projects
Monero
Other
LibRedirect is a free-software extension for major browsers (currently available for Firefox and Edge in their native stores) that redirects you to privacy-preserving alternatives for many mainstream online services such as YouTube, Reddit, Twitter, Wikipedia and more. Their GitHub repo is available here. Please note that Tor Browser developers advise not to install any additional extension into their browser, LibreWolf and Brave seem to be fine.
Monero Art Fund is a community effort of artists and designers who try to provide the community with the latest gorgeous designs of MoneroChan, the anime girl becoming the mascot of Monero. If you enjoyed the art, support them by donation to help them continue. We at this newsletter had the pleasure to use their arts because we're too lazy. :)
Funding
Ideas:
Funding Required:
Meme of the Week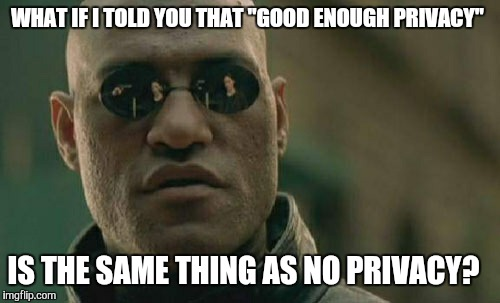 Study Time

TeachYourselfCrypto.com is the source I've always wanted when I started to go down this rabbit hole. You can study various resources on this website to try to tighten your knowledge about cryptocurrencies or even better, introduce this resource to new-comers. Project's maintainer, Harsh Strongman, announced the inclusion of Monero in the course in a Monero Talk episode that you can watch here.
Donation and Contact
This newsletter is one of my dedicated jobs and LocalMonero pays me for writing it, but if you've found it informative and helpful, here is my wallet address:
89gUNDWHpNBD59eqJHcyg9RRfZ9xPBqdXKgVhLiYonhtjFMtmKJDumCRD3EWvmXeogKs5Jh4jfnUhdyif2U3tbT3Liu7F3M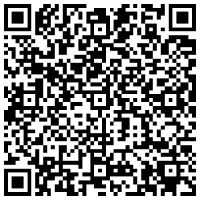 Thank you!
Contact Me
Found anything worth noting? Want to send something to be included in the next issue? Want to chat about something?
You can contact me on XMPP and Matrix. Be aware that Matrix is centralized due to the fact that most people make an account on Matrix.org operated by the Matrix Foundation - That's a lot of metadata controlled unjust by just one entity.